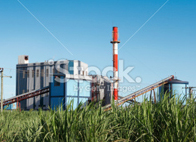 Integrated Casetech Consultants
Pvt Ltd, incorporated by Simbhaoli Sugars Limited, is a consultancy services company providing complete technical solutions in the areas of Cane growing management; Sugar refining, Alcohol and distillery management and engineering solutions, and Energy efficiency measures to cater technology services to the global sugar industry. The "Casetech" combines industry specific managerial experience and consulting competence with extensive process technology, practice and know-how of sugar and allied byproduct industry. Consequently, Casetech is able to deliver feasible solutions on any of the assignment of sugar industry starting from concept to commissioning.
The key consultancy competencies prevalent at Casetech are sugar mill and sugar refinery operations, maintenance, performance improvement, process technology for refinery, process steam reduction by energy integration principles, electrical energy conservation, distillery operation & environmental management and sugarcane plantation development and management.
Feasibility studies and detailed project reports (DPR) for cane, alcohol, sugar & energy
Complete raw sugar refinery project
Biomass based power plant project
Detailed engineering and project implementation
Green field sugar project
Bagasse based co-gen with multi-fuel concept
Sugarcane management services & solutions
Sugar factory / refinery operation and maintenance
Energy auditing and process optimization
Brown field expansion, rehabilitation and modernization
Multi-feed distillery
Environmental solutions
We have developed in-house technology for the raw sugar refining based on which two sugar refineries are operating and two are in commissioning stage